Brand New You with Celebrity Brand Strategist Phil Pallen
When positioning your brand, you have complete control over the first impression you give. Make sure it's a good one.
This one-day conference and workshop helps you tell your story on your terms, providing you with hands-on tools to elevate your personal and/or professional brand.
Through three focused lectures, celebrity brand strategist Phil Pallen will teach you how to position, build, and promote your brand, after which you'll work through your own brand strategy in hands-on workshops facilitated by Phil and Full Sail faculty experts. These sessions will break down branding and promoting yourself online into actionable advice that will help you create a compelling and personal brand image.
Upgrade to the VIP Experience for more personalized time with Phil Pallen during a VIP breakfast at 8:00am and an intimate consult with Phil until 6:00pm.
Location:
Full Sail Live Venue (141 University Park Drive, Winter Park, FL 32792)
Date:
June 16, 2017
Time:
8:00am – 4:30pm, VIP Experience until 6pm
Registration:
EventBrite
Position Your Brand: Lecture and Workshop
You're in complete control over the first impression you give online, so make sure it's a strong one. Learn the formula for positioning your brand successfully, and how to tell your story on your terms through an online brand that recreates the in-person experience. You've got many skills, but the world wants to know about you in just one sentence. Learn how to distill your core offering, satisfy the need of others (whether you're selling a product/service, trying to get a job, or even just appealing to your boss) while positioning yourself for future success.
Public Speaking: Lecture and Workshop
Learn how to become a confident, dynamic, and effective public speaker so that you can make the impact you need to in your career, covering topics like body language, intonations, PowerPoint presentations, icons, and so much more.
Promote Your Brand: Lecture and Workshop
Become savvy with the ins and outs of using social media to promote yourself effectively and forge meaningful connections. Leave with a solid understanding of how to prioritize your platforms, strike up conversations online, create content, post effectively, choose your social platforms of focus, and so much more.
About Phil Pallen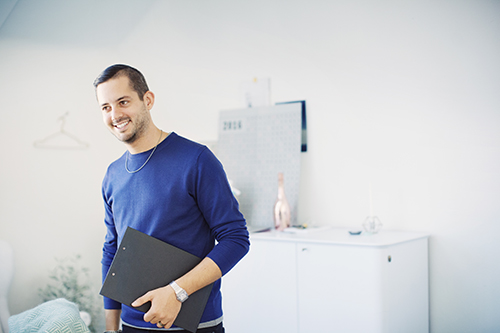 Full Sail grad Phil Pallen helps TV personalities, experts, and businesses learn how to position, build, and promote their brands. You've seen his clients making deals on Shark Tank, advising country leaders, winning a Nobel Peace Prize, and changing lives with an incredible business idea. Based in LA, Phil is often featured by media outlets like Access Hollywood, Entertainment Tonight, The Toronto Star, and The Daily Mail, and speaks at conferences around the globe.
Watch More from Phil Pallen